Luxembourg Institute for European and International Studies
Institut d'Etudes Européennes et Internationales du Luxembourg
SUMMER SEMINAR
Liberal democracy in the Asian century
Vama Veche, 22 – 27 July 2013
organized by the Luxembourg Institute for European and International Studies, the Black Sea University Foundation and the European Cultural Centre, Bucharest
The aim of the seminar is to examine whether the dominating political paradigm in large parts of the world since World War II will remain attractive or even gain in importance. Is it bound to decline and perhaps fade away with the rise of regions and countries that may choose a different path of political and economic development? What will a surge of religious fundamentalism, nationalism, new cultural confrontations, and the contest for ever scarcer natural resources mean for the prospects of liberal society?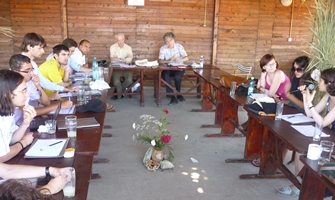 Summer Seminar in Vama Veche (2010)
MAIN TOPICS
Is democracy a Western idea? From Aristotle's Politics to Kant's Perpetual Peace
Democracy and liberal internationalism/democratisation: from Woodrow Wilson to G.W. Bush
Democracy and the "end of history": democracy and Eastern Europe post-1989
Why was Russia "lost" (and "who lost it")?
Democracy in crisis post-2008: the rise of nationalism. Fascism and political extremism
The Arab Spring: is Islam compatible with democracy?
The Asian century (1): Illiberal democracies
The Asian century (2): China and the authoritarian/"meritocratic" model

Can Asia re-invent democracy: India and China?
MAIN SPEAKERS
Prof. em. G. MICHAEL AMBROSI
Jean Monnet Professor ad personam, University of Trier, Germany
Prof. DANIEL BARBU
(26-27 July)
Faculty of Political Sciences, Bucharest University
Minister of Culture of Romania
Dr. ARMAND CLESSE
Director, Luxembourg Institute for European and International Studies
Prof. CHRISTOPHER COKER
Professor of International Relations, London School of Economics and Political Science
Prof. MIRCEA MALITZA
Member of the Romanian Academy
Founding Member, Black Sea University Foundation
Vicepresident, European Cultural Centre, Bucharest
For more information on the summer school and the application process: